San Rafael
is the county seat of Marin County, located 38 miles northwest of downtown San Francisco. More than 262,000 residents live in Marin County, which spans approximately 828 square miles.
Not only is the weather in Marin County a major draw for homebuyers, but so are its many attractions and natural wonders. It's home to Star Wars and Indiana Jones co-creator George Lucas' famous
Skywalker Ranch
(a studio, zoo, and creative landmass encompassing more than 3,000 acres). Famed architect Frank Lloyd Wright designed the Marin County Civic Center, and nature lovers and outdoor enthusiasts can soak in views of mountains and redwood forests in the Muir Woods. There's also an abundance of hiking and biking at Mount Tamalpais and fun in the sun at Stinson Beach and Point Reyes National Seashore.
The median home price of San Rafael homes for sale is $1,655,000, up 5% from just one year ago. This puts homeowners with San Rafael homes for sale in an enviable position. San Rafael and Marin County are experiencing a seller's market, where there is no shortage of buyers eager to secure a home.
As a buyer in this competitive market, you may have less ability to ask for contingencies with your eventual offer, so make sure you thoroughly inspect a house before buying it. Given how Marin County homes for sale are flying off the market, the best opportunity to do your own inspection will come during an open house.
An overview of Marin County open houses
Remember, the owners of Marin County homes for sale will do everything they can to spruce up their homes in preparation for sale. They may pay professionals to stage it, invest in a cleaning service, or repaint the exterior or interior of the house, so everything looks fresh and new. While these actions are admirable, they are mostly superficial. They could be masking more serious structural, plumbing, or electrical problems (not to mention mold, insect damage, or dry rot). An open house is the best opportunity to assess the following areas for potential issues:
The front door and porch area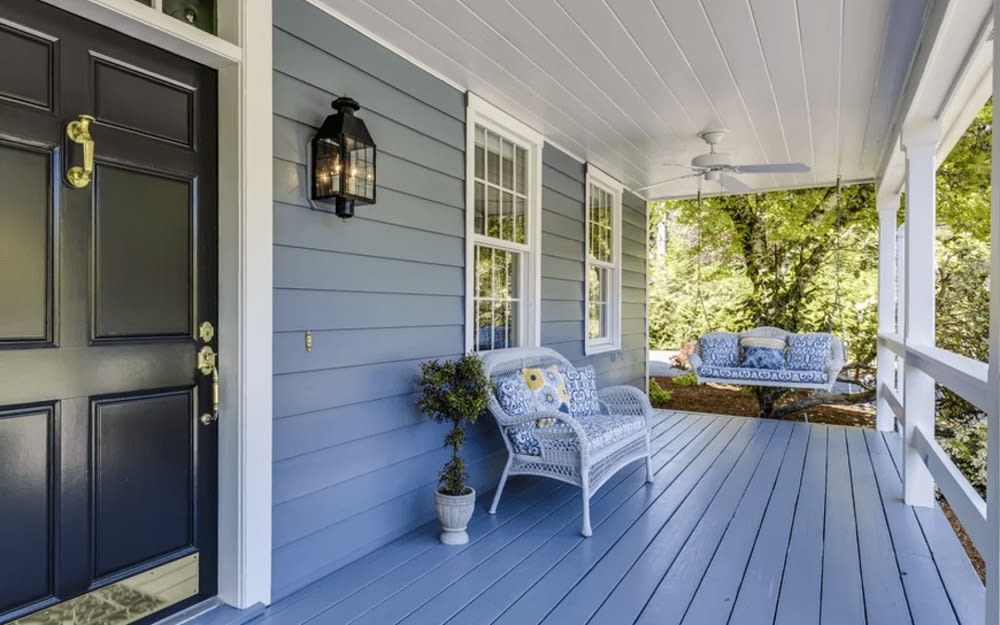 Aside from the curb appeal of San Rafael homes for sale, the front door and porch area will reveal what lies inside. Consider how the door finish looks compared to the interior entryway is it bright and fresh compared to old, dented, or rusty hardware? What about any porch light fixtures? Consider if they (or any other parts of the porch and front door) are covered with cobwebs or dirt. Consider if the house exterior is plaster, wood, or stucco and if you see any wear, such as pitting or material disintegration. Additionally, check if the porch floor is stable and if there are signs of rat droppings or chewed-up exterior components.
The house's trim
Next, look at the trim from all sides, not just the front. Take a moment to check underneath and behind to determine if it's well maintained or peeling and in poor condition. Homeowners in a rush to prepare a home for an open house might not think these areas are essential. Trim and fascia are vital indicators of dry rot, mold, insect infestation, and neglect.
The roof
Ask the homeowner how old the roof is. Wooden shake shingle roofs are illegal in California due to the state's propensity for wildfires. If the roof looks level and doesn't appear to curl or buckle, that's a good sign. The only way you'll be able to check is to walk across the street to view the roof from afar—check online for any aerial photos.
The foundation
A close look at the home's foundation is key to identifying if the house has ever flooded. Check for cracks in the bricks, concrete, or plaster and white deposits a foot or two off the floor. This is a sign of flooding. Check the cabinets, appliances, and counters as you work your way through the house. Consider if you see evidence of leaks or warping. Warping happens when wood or other porous materials are exposed to water for more than an hour.
The plumbing
Ask the owner and realtor of San Rafael homes for sale if any plumbing changes have taken place between the house and the street. You might even see curb cracks or breakage. While this could indicate tree root encroachment, it could also warn of a broken water main or other water-based catastrophes. Check if any large trees could've caused the damage. If not, check adjacent homes to view their curbs and see if they're in the same condition.
The windows
Check one window in every room. If the glass is tempered (a treatment that reduces the risk of glass breaking into shards instead of smaller, duller, less hazardous pieces), it will have a telltale "
sandblasting mark
" in one of its corners. Check the functionality of the windows, too, and ask if they're double or triple-pane windows. This extra thickness helps keep the home warm or cool, depending on the weather.
Are you interested in buying Marin County real estate?