Spring is an ideal time to make the most out of your outdoor space — as the winter chill is gone and the summer heat has yet to kick in. The clear skies and beautiful colors create a feeling of rebirth. And after a beautiful day outside, you'll want to return to a home with this same spring vibe. There's no better way to do that than with a spring-inspired interior home renovation.


The key to renovating your home is dividing your plans into sub-plans. This applies to both major and minor home renovations. You want each room — living room, bedroom, kitchen, bathroom, and outdoor space — to feel cohesive. Although these rooms have distinct designs, the multiple styles enhance each other, making the entire house look stylish and complete.
The best home upgrades for your San Rafael real estate
Kitchen renovations
Installing a new floor is a ton of work, but the result is well worth the effort in personal enjoyment and future return on investment (ROI). Some of the best high-end quality flooring options for your kitchen include:
Forbo Marmoleum
Exotic hardwood
Natural stone
Hand-scraped hardwood
Luxury vinyl tile
Changing the color of your kitchen walls will also make a huge difference. Play around with color palettes to create a new look. Choose colors such as beige or cream to create a luxurious look or darker tones for cozy elegance. In addition to the renovation, you can also opt to upgrade your kitchen appliances. New appliances elevate a kitchen's ROI and make it appear more modern. Before swapping your appliances, ensure your built-in shelves will accommodate your new appliances, both in size and color.
Living area renovations
The living room is the face and most public space in your San Rafael home. That's why it's vital to focus on the room's beautification and integration when renovating your home. Start by adding a sense of personality to the room by installing antique pieces. The pieces can range from furniture and shelves to vintage wall decor. Vintage pieces add an eclectic touch to any space. Vintage items can go from old photographs to sculptures to mirrors.


Add an oversized painting to be the focal point of your living room. Art embellishes your home; a good piece of artwork will add color, value, and rhythm to a room. Additionally, prevent the room from looking like a sea of colors and lines by introducing an element with a curve or a unique silhouette.
Bedroom renovations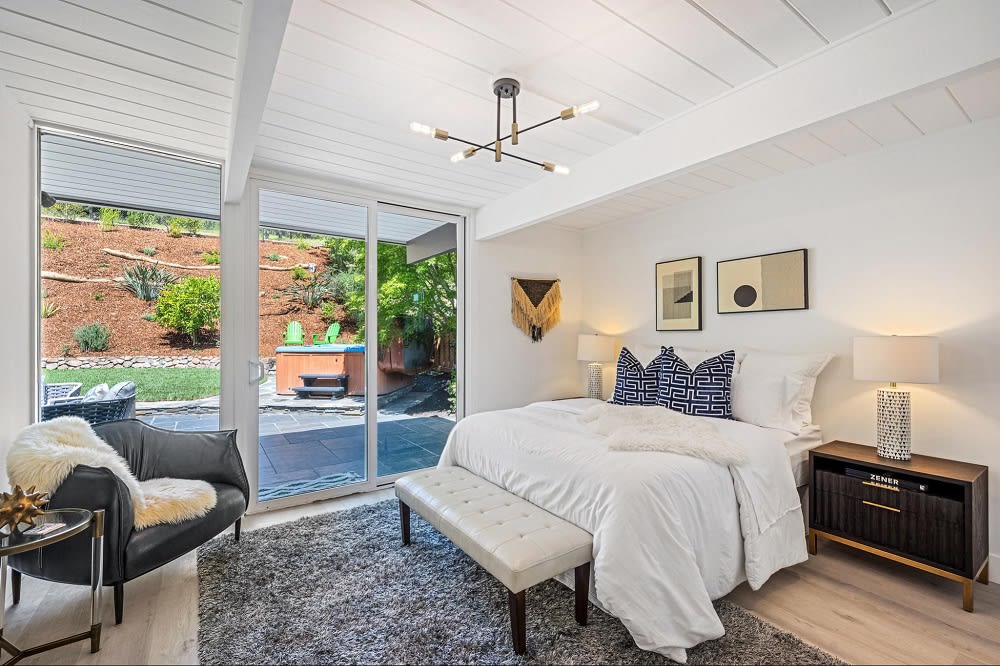 The advantage of bedroom renovations is that they're less invasive and complicated than kitchen and bathroom updates.

You can create a calming aura in the bedroom with a quick change in lighting. Instead of focusing on single set pieces, have a combination of warm-white tone light sources. For example, add a dim orange LED bulb for your lamp on your nightstand. For your ceiling light, a chandelier with a low color temperature like red adds the right amount of ambiance.


Bedroom flooring should represent comfort and coziness. There are various bedroom flooring options, including wall-to-wall carpeting and laminated floors. You can also add an area rug, as they're soft and friendly to bare feet. Homes with good bedroom flooring are at a high premium during resale.


If your bedroom is plain, consider adding personal touches for a bit of character. For instance, you can change your bedding and curtains from monotone to bright colors. If you're renovating a child's room, you can implement a theme depending on your child's preference.
Bathroom renovations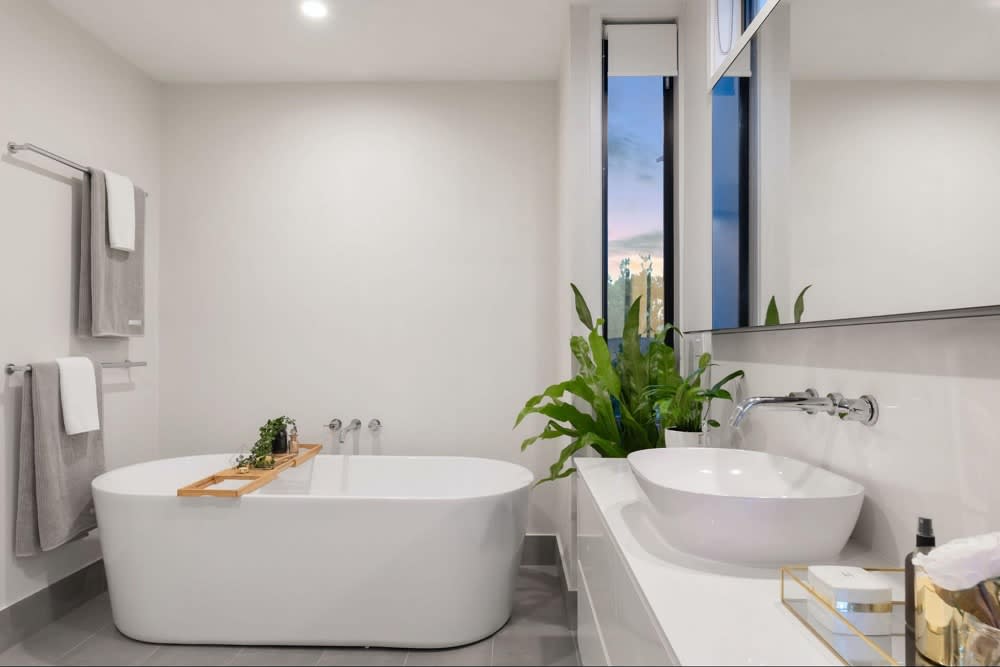 While you may consider skimping on your bathroom renovations in favor of one of your living areas, in terms of ROI, bathrooms are actually one of the
best places to focus your efforts
. Often, bathroom renovations pay off when it comes time to sell — and a spa-like bathroom provides you with great comfort in the meantime. Bathroom designs should feature interiors that prioritize antimicrobial fixtures and easy-to-clean surfaces.
Antimicrobial fixtures reduce the spread of germs as they include antibacterial metals for the sink, bathtub, and faucets. A natural touch is a great way to encourage serenity in your bathroom space. Try placing your bathtub on a floor of pebbles to create a natural indoor-outdoor flow. Additionally, an indoor garden with potted plants will bring more life into your space.


Don't clutter vanity countertops with toiletries, as they can make your space feel small and disorganized. Instead, gather your products on a pretty tray or install a wall-mounted holder. You can also add floating drawer trays for miscellaneous items such as cuff links, bobby pins, or headbands.
Attic and basement renovations
Clearing and renovating the less-used spaces in your home, like the attic and basement, add more usable square footage to your space. You can easily transform the precious square footage of your basement space into something more aesthetic. For example, arrange some sleek pieces of furniture, add oversized artwork, and light the room with ornate fixtures. Then add a fresh coat of vibrant paint to lighten the space if the room is dark. The basement will be just as grand as your above-ground living room.


The attic is another perfect space to create a quiet getaway. For example, you can cover the area with floor poufs, make it a family movie room, and project films on the sloped ceiling.
Five factors to consider before renovating your San Rafael home
As a homeowner, renovating certain parts of your home can increase your property's
resale value
. Your renovation plan should create extra space and spruce up your home's interior for a clean, fresh look. Interior renovations can be major or minor, depending on your needs and several other factors.

Your budget
It's critical to have a well-laid financial plan for your project. To ensure that you've worked within your budget, you need to:
Decide on your renovation priorities and needs
Source materials
Create a list of goals and needs for contractor bids
Plan financing
Compare the value vs. cost of each project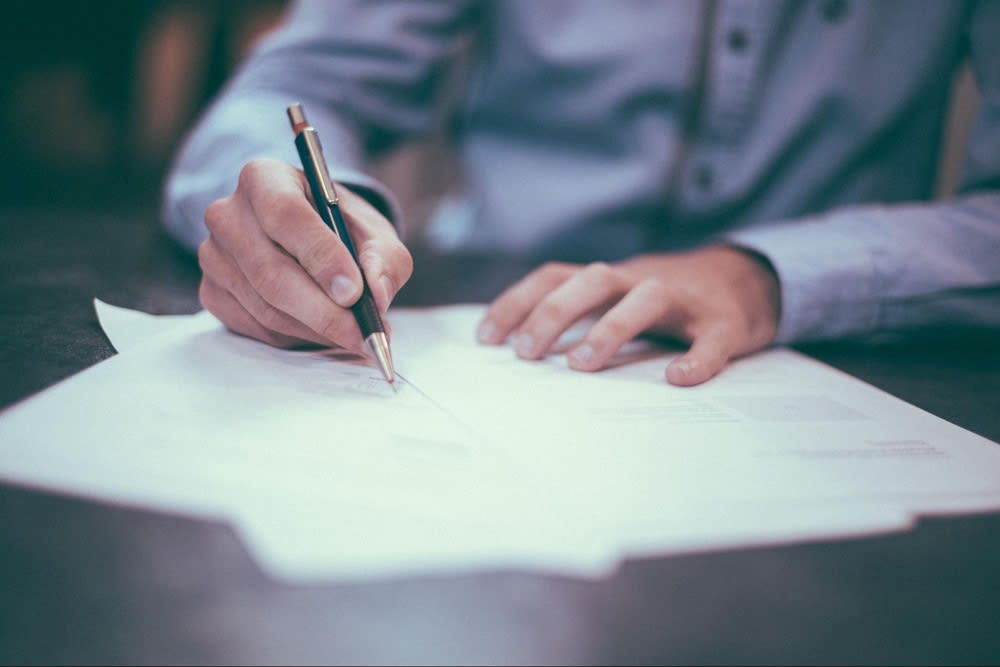 Design style
A successful renovation plan should create a new feel in your home. Popular home designs in the US include colonial houses, Tudor-style houses, contemporary, and Queen Anne houses. As each home is unique, your renovation plans should vary to suit the style of your house. For instance, rustic and traditional homes will not be great if styled with a contemporary design. To match your home, research what will complement the overall look.

Available space
Before starting a project, envision the outcome of your renovation plan. This way, you will avoid creating a mess, especially if your space won't be enough to allow you to have what you want. For example, if you plan on turning your basement into a home gym or wine cellar, make a concise plan to ensure that the space will be enough to fit all the equipment. In addition, you should consider accessibility and ease of movement.

Professional or DIY
Renovating a house can be challenging, requiring expert knowledge and experience. Depending on the renovation, your DIY skills may be enough to execute your plan. However, if you're not confident in your abilities, take advantage of the services offered by professional home renovators. If you don't know where you can find one, a San Rafael real estate agent can connect you with several contractors whom you'll select, depending on your preferences.


A professional has the experience, skills, and industry knowledge that will help actualize your concepts within an agreed timeframe. In addition, they can offer advice on the most suitable materials that'll provide you with a great return on investment.

Getting permission
Obtaining a planning permit is dependent on the type of renovation. For example, minor home renovations such as painting, adding wallpaper, or installing a new faucet do not require a permit. On the other hand, extensive renovations could require you to gain a permit from your local planning authority. Those renovations include:
Installation of an electrical or plumbing system
Replacing your water heating or HVAC system
Changing existing support systems such as walls, poaches, decks, and balconies
Swimming pool installation
Building a garage
Looking to list a San Rafael home for sale?