It is wise to give your home an edge in the competitive Kentfield real estate market. Staging your home helps potential buyers envision what it would be like to live, play, and work in Marin County.

Kentfield is located in Marin County, the sixth-highest income per capita of all counties in the United States. This area is known for luxury homes, which is why it's so important to highlight all the bells and whistles luxury buyers are seeking.


Boost the curb appeal
Many buyers will drive by your home before going in for a tour. This is why curb appeal is so critical for staging your home to sell. Make sure your home stands out as stunning, fresh, and inviting. Some simple tips include adequate lighting, seasonal flowering plants, and a newly painted door.

While these touches may seem like little things to you, they are what a prospective buyer will see first. Start with the end in mind: a clutter-free and welcoming entryway.
Adapt for new remote working needs
As we've seen in the last year, new teleworking policies are making it easier for professionals to work remotely. Across geographic regions and industries, more people are opting to work virtually full-time or in hybrid work arrangements.

This trend to remote working ups the odds of buyers looking for home offices, Zoom rooms, and technology-enabled homes. As Kentfield real estate offers access to both the wine country and San Francisco and is therefore likely to attract remote or commuting workers, play up your in-home office to appeal to buyers. To stage your home office, organize the table, chair, and lighting to focus attention on efficient workflow.

Many people are using video conferencing to stay connected, so having a large screen for video conferencing will set the stage for creative work with a remote team or clients.

Remote office staging is often a reflection of shifting priorities and makes it possible for buyers to envision working effectively from their new home.
Emphasize spa-like features
Luxury homeowners are often seeking homes where they can relax, rejuvenate, and experience a sense of serenity. Kentfield homes for sale can speak the language of buyers by showcasing their spa-like elements.

Some outdoor elements that realtors suggest include spacious pools, pool cabanas, hot tubs, and luxury lounge chairs. If your pool has a waterfall, add some flowers and greens to create a tropical vibe. Kentfield real estate is ideal for enjoying the sunshine. When it comes to the interior, think master bath suites with walk-in showers, soaking tubs, and steam rooms. You can stage and highlight these areas with lush bath towels, high-end shower gels, and luxury body lotions.


Highlight outdoor dining and living
In addition to an expansive pool setting, draw the buyer in with an invitation to dine outdoors using an outdoor table to capture their imagination. You may want to vary your decor depending on the time of viewings or open houses. For instance, set the table for a gourmet brunch if viewing is early in the day. Alternatively, set the scene for a romantic dinner under the stars for late afternoon or early evening tours.

If you're staging your outdoor dining area, be sure to feature the outdoor kitchen. Many buyers of Kentfield real estate put dining outside as a top priority. This is why most luxury homes have gas grills, patio seating, exterior refrigeration, and a work area for food preparation.

In addition to outdoor dining elements in Kentfield homes for sale, smart homeowners emphasize their chef's kitchens during the staging process to appeal to buyers who love to cook.

What should your gourmet kitchen look like? Think top of the line for everything from knives, pots and pans, to kitchen linens. While you focus on setting the stage for home cooking, pull out all the stops to set the stage for luxury. Gleaming copper pans, sparkling glassware, and accent lighting sends a message that comfort and culinary entertainment are close at hand.

Remember not to clutter up your countertops with small appliances or other items that take away from the counter space or make walk-in pantries appear cramped.
Keep it neutral
Does your home have neutral colors and hues? If so, your home is ready for staging with style. If not, repaint your home's interior with neutral colors. This is vital as a neutral palette helps buyers visualize themselves living in your home.

Kentfield homes for sale often compete on natural design elements. This attention goes toward existing furnishings, as well as any accents, such as pillows, furnishings, and lights. In addition, consider making the master bedroom gender-neutral. This is an easy tip that can make your home more attractive to a wider audience of prospective buyers.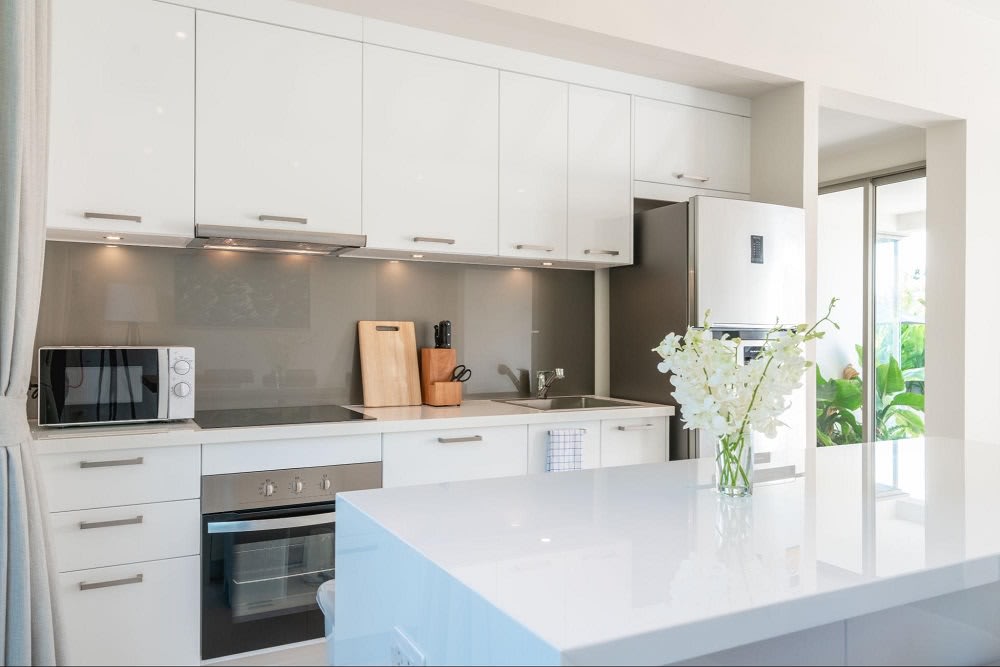 Focus on target buyers
Kentfield is an ideal jumping-off point for all kinds of activities and lifestyles. Talk with your realtor to devise a strategic plan. Focus on a specific profile and align your staging choices to appeal to your target buyers.

In this area, some buyers are looking for an active lifestyle, while others are more drawn to the epicurean aspects of the Bay Area. After identifying your target buyer, walk through your home and make sure that staging speaks directly to their priorities. For example, if you are focusing on buyers who value a pool, showcase a luxury pool setting. Carry this idea throughout the home by featuring water images in the paintings in other rooms.
Create a consistent impression
Kentfield real estate is the place to stage the epitome of luxury. You don't want to have one room professionally staged and another neglected. Think about creating a consistent flow from the driveway through every room. If one room has a stunning view of the pool, all the furnishings and features should direct attention to that aspect.

One thing to keep in mind is to position your home to blend aspects of a luxurious lifestyle with a healthy, active lifestyle that Northern California is so loved for. You can do this with themed artwork of sports, vistas, and inspiration.

A simple tip is to place sports equipment in an attractive and prominent place in your home or garage. Show your road bike, mountain bike, tandem bike, and hiking gear. Inspire potential buyers with the ease and access that is possible when living in Kentfield. Marin County has an abundance of parks, beaches, and beautiful trails. By creating a luxury invitation to an active lifestyle, the staging of your home will send a cohesive and impressive message.


If you're staging your home for sale, speak with an expert Kentfield real estate agent who is in touch with current trends and priorities. Whenever you're ready, feel free to reach out to trusted agent Allison Salzer to discuss your staging needs and sales goals.