The kitchen is one of the most critical rooms in your home — both for living in and selling your Marin County home. Some suggest that the
kitchen may be the most influential factor
for potential buyers. Thus, if you're interested in listing a Mill Valley home for sale or a Ross Valley home for sale, it's wise to spend some time and effort upgrading your kitchen.

Consider if your kitchen is well-organized and inviting — and, if it's not, how you can rectify it. Below are 10 worthwhile kitchen upgrades for your Ross Valley real estate.
Small Upgrades
Perhaps your Ross Valley real estate is in reasonably good shape, and your kitchen already has working appliances, good countertops, and solid floors. In this case, you just want to make sure it's move-in ready and entices potential buyers. Consider the following ideas:
1. Replace Hardware
New knobs, handles, and switch plates can add an instantly modern feel to Ross Valley homes for sale. It isn't necessary to match faucets and appliances with great precision, although such an arrangement can appeal to buyers. Instead, you can simply put different kinds of hardware in place that complement each other. As a first or second step, consider shopping online for more style options and better pricing than a retail store.
2. Select New Light Fixtures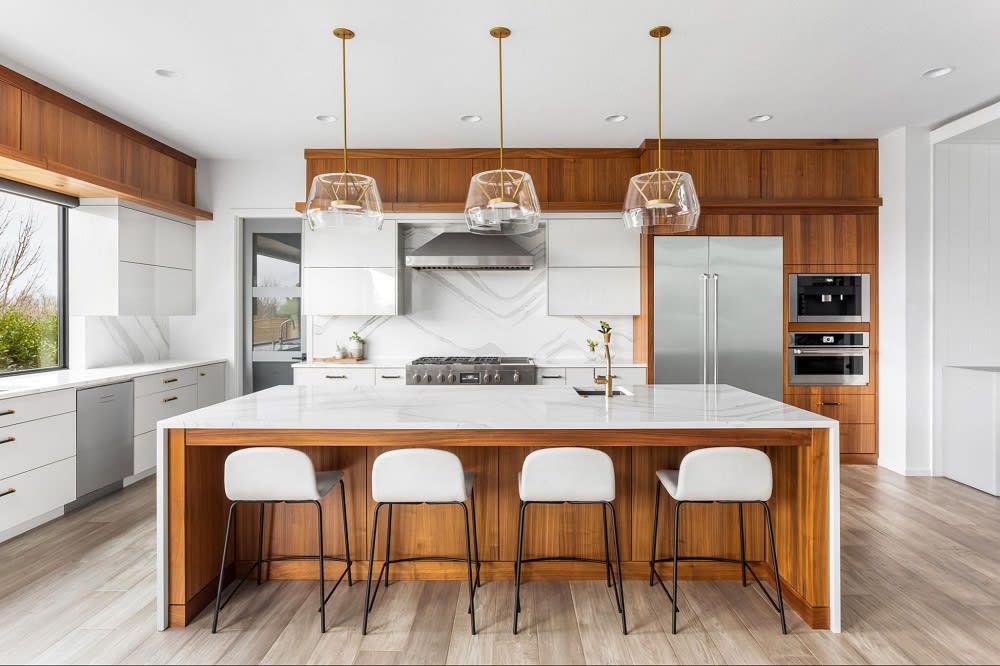 Sleek and stylish fixtures can be found everywhere, from home improvement stores to boutique lighting showcases or even online. Choose designs that are functional and complement the overall aesthetic of your kitchen. The rule of thumb is that an airy palette will make the kitchen appear more spacious and therefore more appealing to prospective homebuyers.
3. Add A Backsplash
With endless patterns and color schemes available, selecting mesh-mounted predesigned backsplashes will save you time and possibly a headache. In general, if you're a professional designer, you might be able to avoid the tedious toil and frustration that often come with designing a backsplash piece-by-piece. For most sellers, a predesigned backsplash is the way to go.
4. Declutter The Kitchen
While an instant pot, crock pot, toaster oven, and coffeemaker may be used regularly in your home, lining them up along the counter only adds to your home's clutter. Streamline the kitchen by putting away anything that isn't necessary. And remember: decluttering shouldn't stop with the countertops. Potential buyers will investigate all parts of your kitchen, including drawers and pantries. Thus, organize and declutter each drawer, cabinet, pantry, and refrigerator for your potential buyers.
5. Deep clean and maintain
A spotless kitchen will subtly convey that your home has been well-cared for and is in immaculate condition. Thoroughly clean every nook and cranny to ensure it's spotless.
6. Paint the cabinets
If your cabinets are chipped or adorned in dated colors, it's time for a refresh. If you paint the cabinets a light, pure color, you'll make them look and feel new — and brighten your kitchen.
Large Remodels
If your kitchen shows its age, it may be time for
renovation
. Below are a few large-scale renovations you can complete to help your Ross Valley real estate stand out from the competition.
7. Add An Island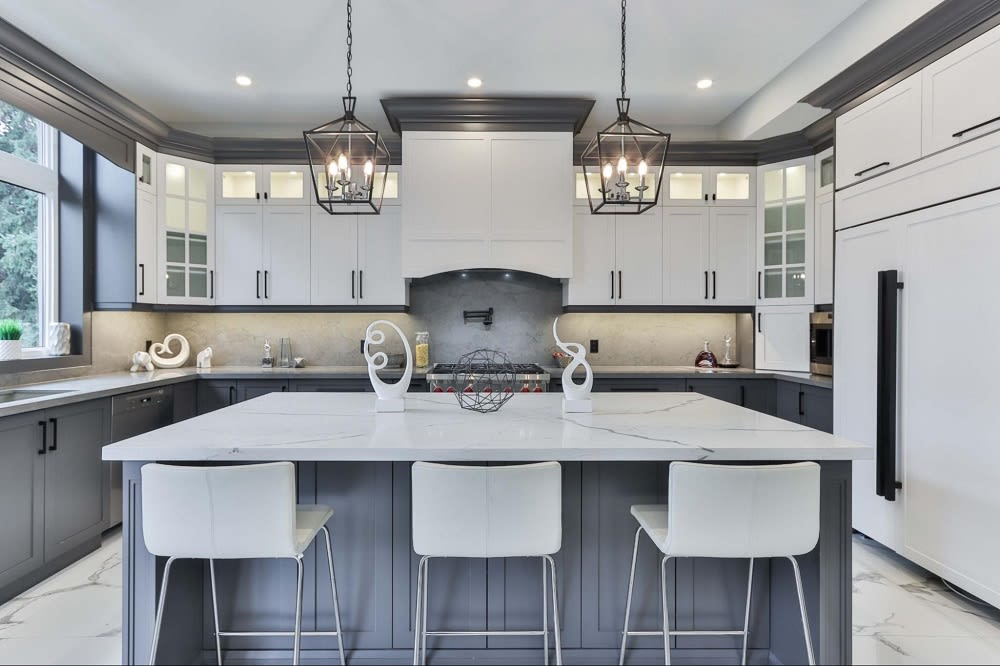 If there's one upgrade that's sure to please, it's the addition of a kitchen island — a versatile must-have for many buyers. It provides additional storage space, improved counter space, and additional seating. Including power outlets and a sink may be a little more expensive, but these additions dramatically increase your kitchen's functionality.
8. Create A Multipurpose Workstation
With more people working from home, the addition of a kitchen workstation — a place to store your laptop, printer, and office supplies — can drastically increase your Ross Valley real estate's value in the eyes of potential buyers. Kids can do their homework, and parents can catch up on emails amid family life.
9. Wave Goodbye To The Old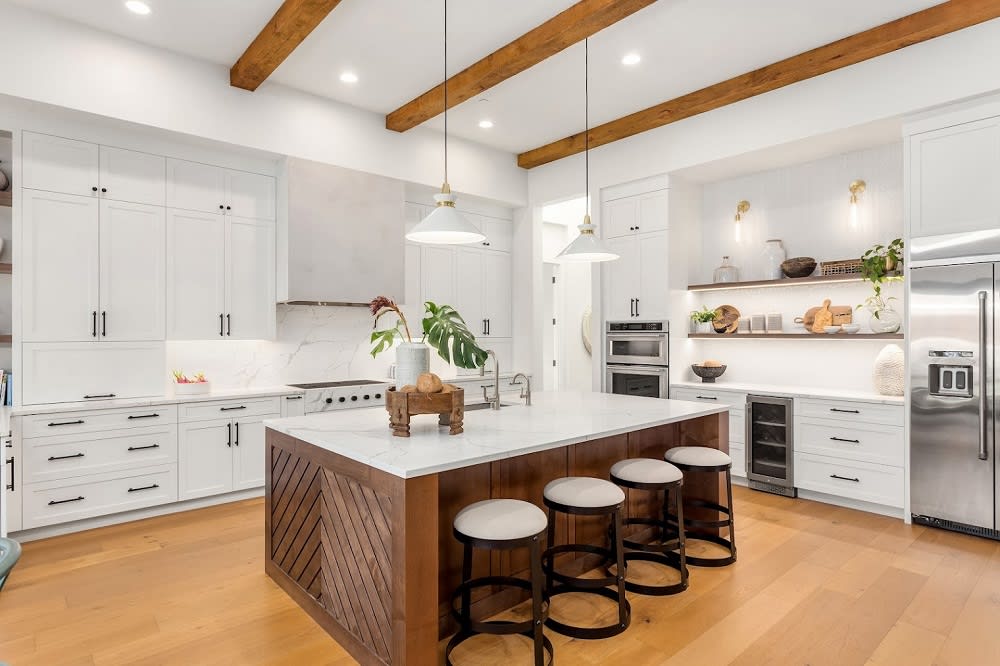 Take a hard look at your kitchen and consider if your appliances are mismatched or outdated. If so, replacing them with new reliable, quality appliances may be worthwhile.

Ask the same about your cabinets. It may be time to replace them with new spacious options that provide better storage. Then, consider your countertops. Granite is not as popular as it once was, and lighter colors are preferred over blacks, browns, and dark grays. Butcher block countertops have become very popular, and quartzite is a practical alternative to using marble.

Finally, look at your floors. If they're cracked, worn out, or dated, then it's time for some new flooring.
10. Create An Open Concept
Ross Valley homes that feel open and invite a smooth transition from one room to the next are preferred to those with boxy and closed-off rooms. Consider if there's a way for you to open up your kitchen to increase square footage and encourage movement in the space. If so, it's an upgrade worth giving serious consideration.
Give Your Home The Love It Needs
After carefully analyzing your kitchen, you'll no doubt have some other ideas about what else your Ross Valley home needs to be ready to sell. Don't forget the two key factors you need to consider: your time and budget. If you need to list your home immediately, you likely don't have the time required for a significant overhaul. If you're not planning to list your home for a few weeks or months, you have time to make all the changes you want. Additionally, the above suggestions range in price, so consider your budget when making decisions.
Since you want to maximize your budget efficiently, the best agent to work with is
Allison Salzer
. Before real estate, Allison worked on mortgage-backed securities for various banks and Wall Street firms. From that experience, Allison mastered negotiation skills and gained an understanding of how financial institutions evaluate real estate loans. Today she works in San Francisco and Marin County, where she has remodeled her own homes and helped prospective buyers find their favorite properties.
Whether you're ready to list your Ross Valley real estate for sale, looking into kitchen updates, or need the advice of an experienced Marin County realtor,
contact Alison Salzer today
.